Der Service Manager bietet Knowledge Artikel an. Diese können sehr hilfreich sein, bevor man ein Ticket eröffnet. Heute hatte ich das Problem, dass beim Aufruf der Knowledge Artikel folgende Fehlermeldung kam: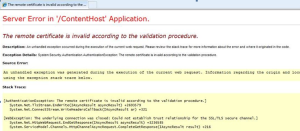 Server Error in 'ContentHost' Application.
The remote certificate is invalid according to the validation procedure.
The underlying connection was closed: Could not establish trust relationship for the SSL/TLS secure channel.
Also habe ich mir schnell die ContentHost application angeschaut. Zu finden auf dem Portal Server im IIS Manager:
Dort habe ich mir die Application Settings angeschaut und den Fehler recht schnell gefunden.
In der Einstellung ContentHostAbsoluteUri war nur der Netbios Name hinterlegt und nicht der FQDN.
Da aber das Zertifikat auf den FQDN ausgestellt ist, war die Fehlermeldung normal.